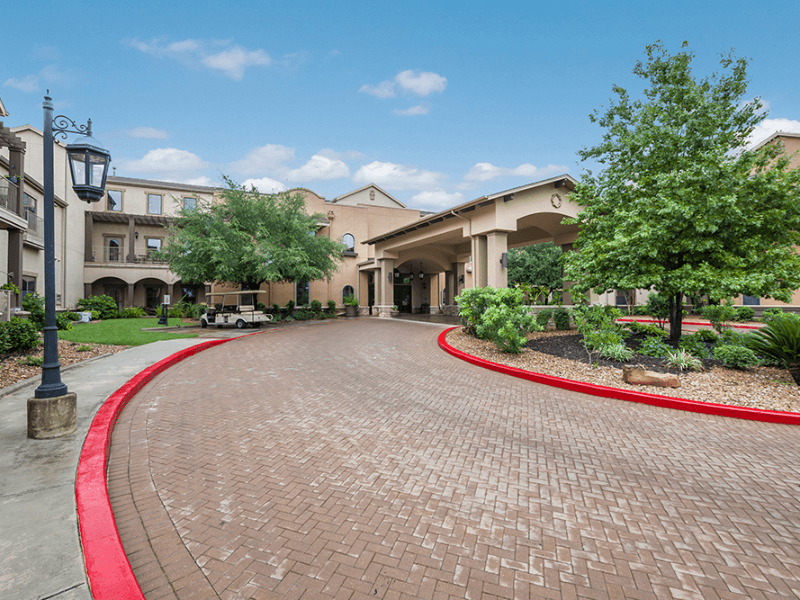 8103 North Hollow
San Antonio
TX
78240
Studio - 2

Beds

1 - 2

Baths
Living at Villa de San Antonio means having access to a variety of amenities and services that support a fulfilling and engaged lifestyle. Spend time doing what you love whether it's learning something new, perfecting your skills at a favorite hobby, fulfilling your spiritual life in our chapel or socializing with friends at the Cantina. Our spacious apartments have amenities to match your lifestyle, with full kitchens for those times you prefer to cook or host friends and family. Additionally, you have the freedom to do laundry when you choose, and in the comfort of your apartment, with a washer and dryer located inside your home.
Community Features & Amenities
Air Conditioning
All Utilities Included
Business Center
Cable TV
Covered Parking
Fitness Center
Handicap Accessible
Health & Wellness Center
High Speed Internet
Housekeeping
Laundry Room(s)
Laundry Service
Library
Maintenance Free
Off Street Parking
Transportation Services
Computer Room
Game Room
Guest Accommodations
Lounge Area
Outdoor Areas
Additional Storage
Cafe / Bistro
Social Activities
Chapel
Outdoor Activities
Community Services
24-Hour Staff
Activities Program
Assisted Care Community
Fitness Program
Laundry Service
Medication Monitoring
Rehabilitation Care Facility
Residential Care Community
Transportation available daily
---
This page has been formatted by Senior Living Choices for easy printing so you can take this with you.
This information has been secured from sources we believe to be reliable, but we make no representations or warranties, expressed or implied, as to the accuracy of the information. You must verify the information and bear all risk for inaccuracies.